Judy is back from the brink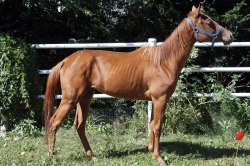 Try to imagine, if you will, being a young mare covered with itchy fungus, undernourished and so weak that you can hardly stand without some support. You are frightened and at an animal auction in South Jersey and on your way to being bought and shipped to Canada to be processed as food. But then, you are spotted by a kindly young woman, named Amanda, who purchases you and gently leads you out to a waiting trailer where you are patiently coaxed aboard. You are relieved to be away from the noise and bright lights but there is still a long two and a half hour swaying ride north to Orange County, New York where you are finally unloaded and led to a quiet, warm stall, floor covered in shavings and straw. You are finally at The Sanctuary for Animals.
For the next couple of weeks you are too weak to even go outside where you might be knocked over by other horses. Amanda, and others, feed you grain three times a day along with special vitamins and supplements to help return your strength and weight.They give you the name Judy in honor of Judy Leven who loaned her trailer for your ride home. The workers bathe you and treat your skin with an anti-fungal cream. Soon you are strong enough to go outside in a guarded pen by yourself everyday and let the sunshine hit your skin. Each day you grow stronger and stronger.
Today, Judy is well enough to cavort in the open under the watchful eye of her horse companion, Scout who runs interference when other horses approach. She shares over a hundred acres of pasture with other horses, donkeys and camels.Her picture shows her to still be a little thin but her controlled diet is adding pounds to this two year old every day.
Between auction fees, grain, medicine and vitamin supplements, The Sanctuary for Animals has conservatively spent over $500 in the past few months, helping to restore Judy to her old self, but no one was counting and no one is really sure. If you would like to help Judy and the over 600 other animals cared for at The Sanctuary for Animals, you can send your tax deductible donation to: The Sanctuary for Animals, 38 William Lain Rd., Westtown, NY 10998